Zodiac, by Moikom Zeqo, translated by Anastas Kapurani & Wayne Miller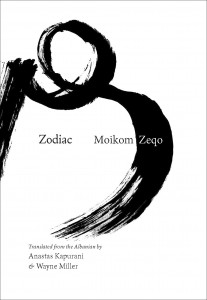 Finalist for the Pen Center USA Award in Translation.
"Zodiac moves in alluvial patterns, gathering the sediment of mythologies, artifacts, and cultural practices and redistributing them in the forceful current of Zeqo's cascading, mostly unbroken stanzas. [. . .] In its playful prophecy, Zodiac smolders with a restless magic and affords English readers and important access point to a distinctive Albanian voice[.]" —Zachary Anderson, Notre Dame Review
"Zodiac has similarities to Whitman's Leaves of Grass [. . .] This is a text that deserves (and demands) focused attention. It is a text all Ashbery-loving twentysomethings who think they're doing something new must read and learn from." —Jennifer Schomberg Kanke, World Literature Today
"[A] crucial artifact for poetry, for transnational art, for mythology and language, and for perspective. [. . . An] elegant jumble of human experience, a manic meditation of the person's place in and out of time." —Wesley Rothman, American Microreviews & Interviews
"Zeqo plays an ecstatic lyric game [. . .] We can imagine a poem like a full-fleshed lion that might open its mouth to explain the connections between all things." —Kathryn Nuernberger, Entropy
"It is rare these days to find a poet who isn't just interesting, or good at particular aspects of craft, or funny, or wild, but a poet who is truly large and complex, creating not just a human portrait, or a community or a reflection, but a whole cosmology; the way Divina Commedia was, first and foremost, a cosmology—like Rilke's Duino Elegies or Eliot's Four Quartets or, in our time, perhaps Ernesto Cardenal's Cántico Cósmico. And then—by a sheer stroke of luck—one comes across such a book as Zodiac and realizes there are still poets who aim for greatness. I love Moikom Zeqo's voice in this book—especially when various references blend to produce a wild new mix—but most of all I become convinced we are in the presence of unmistakably real and large poetic talent when the book builds a new cosmology all its own. Out of various mythologies and traditions and incantations a new voice arises that is true and beautiful and strange. We owe a great debt of gratitude to Wayne Miller for introducing us to this powerful work and for enlarging the English tradition with his own, very gifted, music." —Ilya Kaminsky
I Don't Believe in Ghosts, by Moikom Zeqo, translated by Wayne Miller with the author, et al.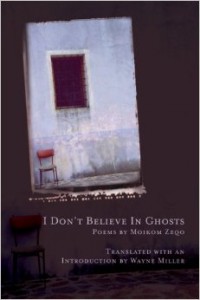 "Zeqo's poems explode socialist realism with exuberant bursts of imagination [. . .] Though Zeqo says 'I Don't want to overwhelm you with metaphors' it's just one of the many playful ruses put on by this surrealist dreamer stuck in a land of repressive bureaucrats. Throughout this collection [. . .] he does nothing if not overwhelm with shimmering imagery. [. . .] Reminiscent of other rabble-rousing poets born mid-20th century in the Soviet Union's shadow (such as Slovenia's Tomaz Salamun and Poland's Piotr Sommer), these poems reflect a particularly Albanian point of view[.] [E]very poem crackles with life." —Publishers Weekly
"[Zeqo's poems] have a toughness, a lively shrewdness, even at their most melancholic. They are surehanded and straightforward with their language, vigorous, brief, learned and unsentimental[.] —Lizzie Hutton, Rain Taxi
"[G]reat art is timeless, and there is plenty of it here." —Piotr Florczyk, West Branch
"[Zeqo's] work challenged the core principles of Albanian socialist realism, and was therefore denounced as 'hermetic, with modern influence, dangerous, [and] foreign' by the Fourth Plenary Session of the Albanian Communist Party. [. . .] A creative, utterly mesmerizing poetry collection." —Midwest Book Review