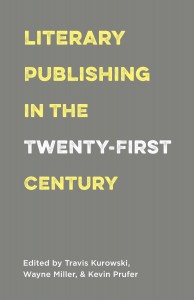 Featuring perspectives on contemporary publishing by Sven Birkerts, Matthew Stadler, Steve Wasserman, Jessa Crispin, Donna Shear, Roberto Tejada, Erin Belieu, John O'Brien, Megan M. Garr, Daniel José Older, Douglas Wolk, Chris Parris-Lamb, Gerald Howard, Kevin Larimer, Daniel Slager, Emily Louise Smith, Jessica Faust & Emily Nemens, Richard Nash, Jane Friedman, &c.
"Literary Publishing in the 21st Century does a remarkable job of miking the crannies of our literary world, not just the predictable nodes that have been challenged since the turn of the century." —Rev. by Lawrence Lenhart and Nicole Walker, Diagram
"[A] thought-provoking anthology that analyzes the many moving pieces of the book industry [and] captures a compelling breadth of perspectives[.]" —Dave Wheeler, Shelf Awareness
"[T]hought-provoking [. . .] There's a lot to learn from this new volume [. . .]" —Laurie Muchnick, Kirkus
"So, where have the visionaries gone, those committed to the finest literary achievements that will enrich our culture for years to come [. . .] We can begin to find the answers in Literary Publishing in the Twenty-First Century[.]" —Nic Grosso, Bookslut
One of 18 books "to read this April." —Literary Hub
"This series of essays from some of the biggest and brightest names in the industry (writers, editors, agents, and journalists) is like a portable MA in publishing." —Adam Morgan, Chicago Review of Books
"[A] must-read for anyone in the industry. [. . .] accessible to lay readers, while offering valuable new insights to insiders." —Publishers Weekly
A Publishers Weekly Staff Pick.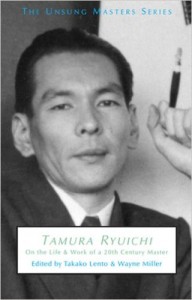 This second volume in the Unsung Masters Series, published by Pleiades Press, focuses on Tamura Ryuichi, a key member of the post-World War II Japanese "Wasteland" poets. Includes more than 40 pages of Tamura's poetry, as well as essays on Tamura's work by Japanese and American writers.
"I can think of no series doing anything quite like this. [. . .] It is the Unsung Masters Series' devotion to illuminating underappreciated writers that makes it truly indispensable." —Brian Nicolet, Fringe
Tamura's work does not manifest the emotionally flat, detached attitude found in so many experimental poems. What makes his work so interesting is that it is filled with emotionally charged and uncomfortable material. [. . .] Tamura Ryuichi: On the Life & Work of a 20th Century Master introduces a poet whose work challenges and informs our notions of poetry in ways that are relevant and exciting in the twenty-first century as well. —Mike Puican, Triquarterly
"Miller points out in the Introduction that Tamura is one of the most prominent figures in 20th-century Japanese literature [. . .] After reading the excellent selection of poems and essays in Tamura Ryuichi: On the Life & Work of a 20th Century Master, I find it easy to see why." —Chet Weise, New Madrid
New European Poets, edited by Wayne Miller & Kevin Prufer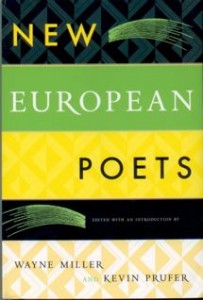 "[This] anthology—designed to emphasize poets not already well represented in English—is sure to be a boon to all kinds of poetry lovers and an important reference for decades to come [. . .] [T]hese poets range from the surreal to the all-too-real portraying decades of sweeping political change throughout Europe and rendering inner lives shaped by circumstances and places as varied as the languages in which they write. American readers are sure to find many new favorites among those included, and they may even find their whole conception of contemporary European literature upturned." —Publishers Weekly (starred review)
"A major anthology that represents all countries in Europe and includes the work of many new poets who are published here for the first time in English." —Rita Signorelli-Pappas, World Literature Today
"Reading New European Poets is like discovering a dozen new literary journals, all of high standard, among which lurk, possibly, the next great poets of Europe." —George Fitzpatrick, New Letters
"A remarkable reading experience." —Jordan Davis, Boston Review
"[I]t's impossible not to celebrate this book with a big whooping Hurrah [. . .] This is not only the most necessary recent anthology I've seen, it's the most adventurous." —Forrest Gander, Harriet: The Blog of the Poetry Foundation
"Indispensable [. . .] impressive, aesthetically diverse, and highly readable." —Corey Marks, Metamorphoses
"This anthology is hard to put down [. . .] New European Poets will break new ground for translation and for shifting attention back to the grand European tradition [. . .] [a] monumental accomplishment by a group of committed editors and publishers [. . .] proof that American poetry can only sustain itself when it acknowledges that the origins of timeless poetry lie elsewhere. —Ray Gonzalez, Bloomsbury Review
"New European Poets opens horizons [. . .] a splendid anthology." —John Taylor, Poetry Wales
"The co-editors of Pleiades, one of our best current journals, have co-edited a fine and rich volume of European poetry assisted by twenty-four 'regional editors.' Poets writing in English from England, Scotland, Wales and Ireland take their place beside translated poets from both Western and Eastern Europe, including Russia, and the former republics of the old Soviet Union. Most of the poets will be entirely unknown by most readers." —Notre Dame Review
"[. . .] a nearly perfect undertaking." —Margarita Shalina, Three Percent